Moving Software Pricing
Granot Moving Software Elements and Pricing Table
Core Features
Comprehensive range of core features designed to optimize and simplify your moving operations. With a focus on efficiency, automation, and connectivity, our software suite empowers you to embrace a paperless and eSign workflow, schedule and manage tasks seamlessly, utilize customizable email templates, set tariff rates, leverage the Foreman Widget for real-time updates, enhance customer experience with uBook and Online Chat, automate processes, manage pricing events, access Movers Arena loads board, create checklists, maintain precise inventory records, efficiently dispatch and manage moving teams, facilitate online payments, and seamlessly integrate with APIs and other software platforms
Lead Management
A powerful moving software feature designed to streamline the process of handling moving leads. With Leads Management, you can seamlessly receive leads from a variety of lead providers and automate essential actions. This includes rotating lead distribution among your team members, providing automatic responses to inquiries, and directing customers to fill out their inventory details. Furthermore, you can effectively manage service requests and empower customers to book jobs themselves, enhancing their convenience and reducing administrative overhead. Say goodbye to manual lead management and hello to efficient lead handling with our Leads Management feature.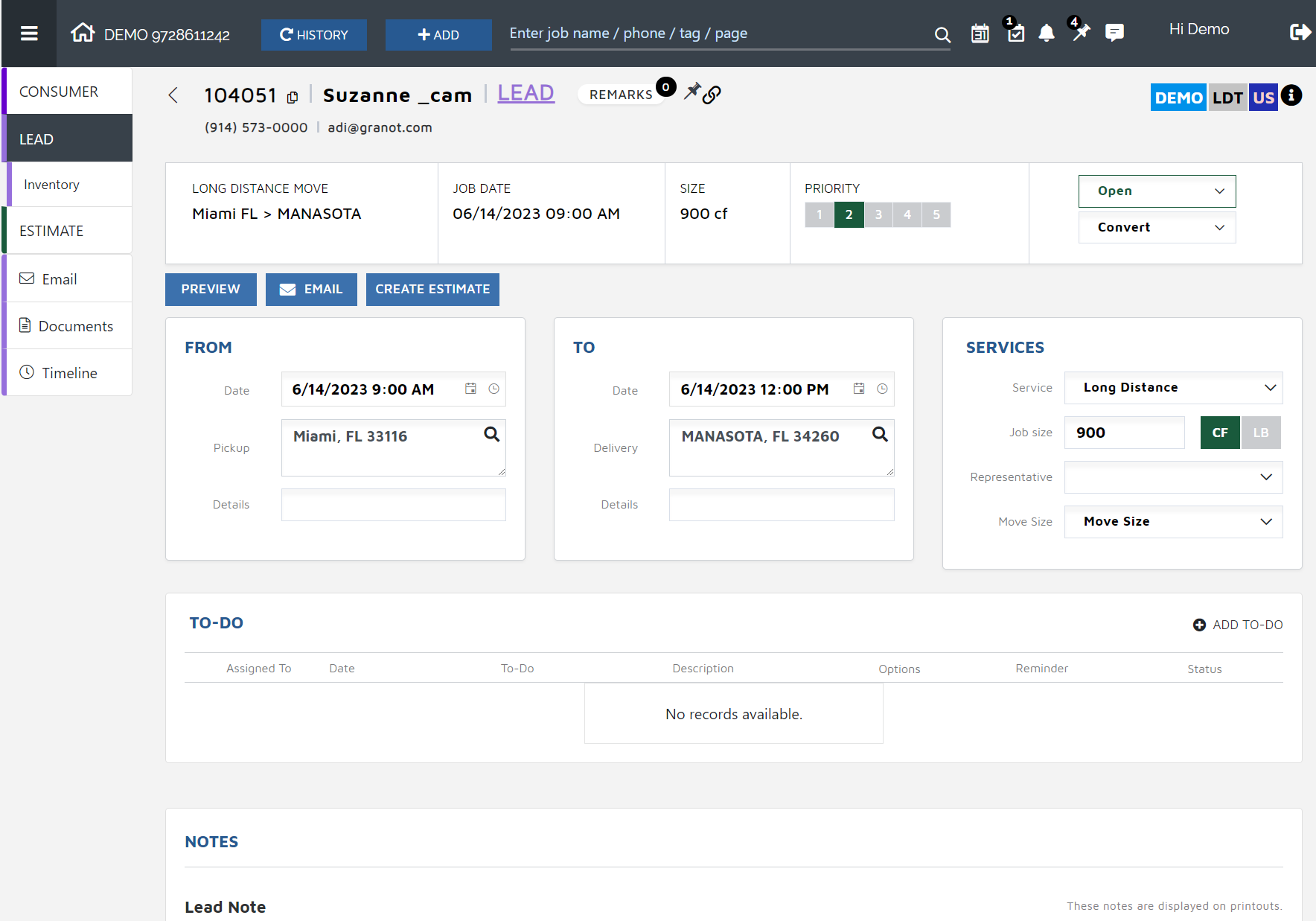 Estimate Management
A comprehensive moving software feature that serves as the main tool for evaluating the price of moving services and facilitating sales. With Estimate Management, you can calculate all components of the service and necessary additions for each job, ensuring accurate and transparent pricing. This feature includes evaluating service types such as local and long-distance moves, creating an inventory list of items with room details, conditions, and handling surcharges. It also encompasses accessorial services, materials such as boxes and supplies, liability options like Full Value Protection, address and location considerations including insurance certificates, walkups, permits, shuttles, fuel surcharges, and travel time. Additionally, Estimate Management covers storage options for short-term or continuous storage services, provides an advance service for sending packing boxes, and facilitates packing and unloading services. Say goodbye to complex pricing calculations and hello to streamlined estimate management with our comprehensive Estimate Management feature.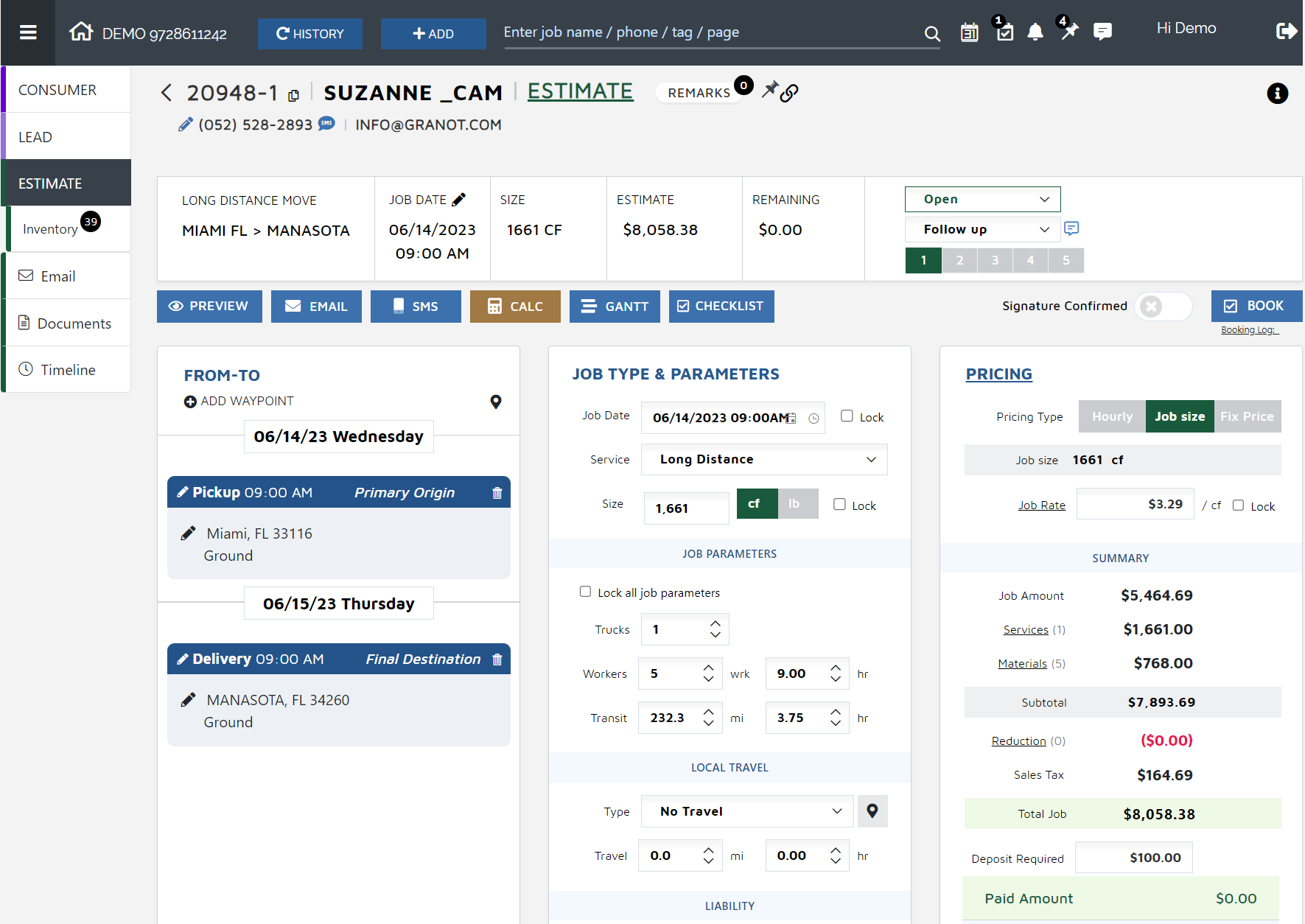 Operation Management
An advanced moving software feature that goes beyond Estimate Management by incorporating additional functionalities to handle the reality of field operations. With Operation Management, you can update and calculate service components based on real-time information from the field, ensuring accurate and up-to-date assessments. This feature includes the creation of a bill of lading, enabling seamless documentation and tracking of shipments. Additionally, Operation Management encompasses staffing management, allowing you to calculate working hours and wages for workers in the field, ensuring proper compensation. Say goodbye to manual calculations and administrative burdens, and say hello to streamlined operation management with our comprehensive Operation Management feature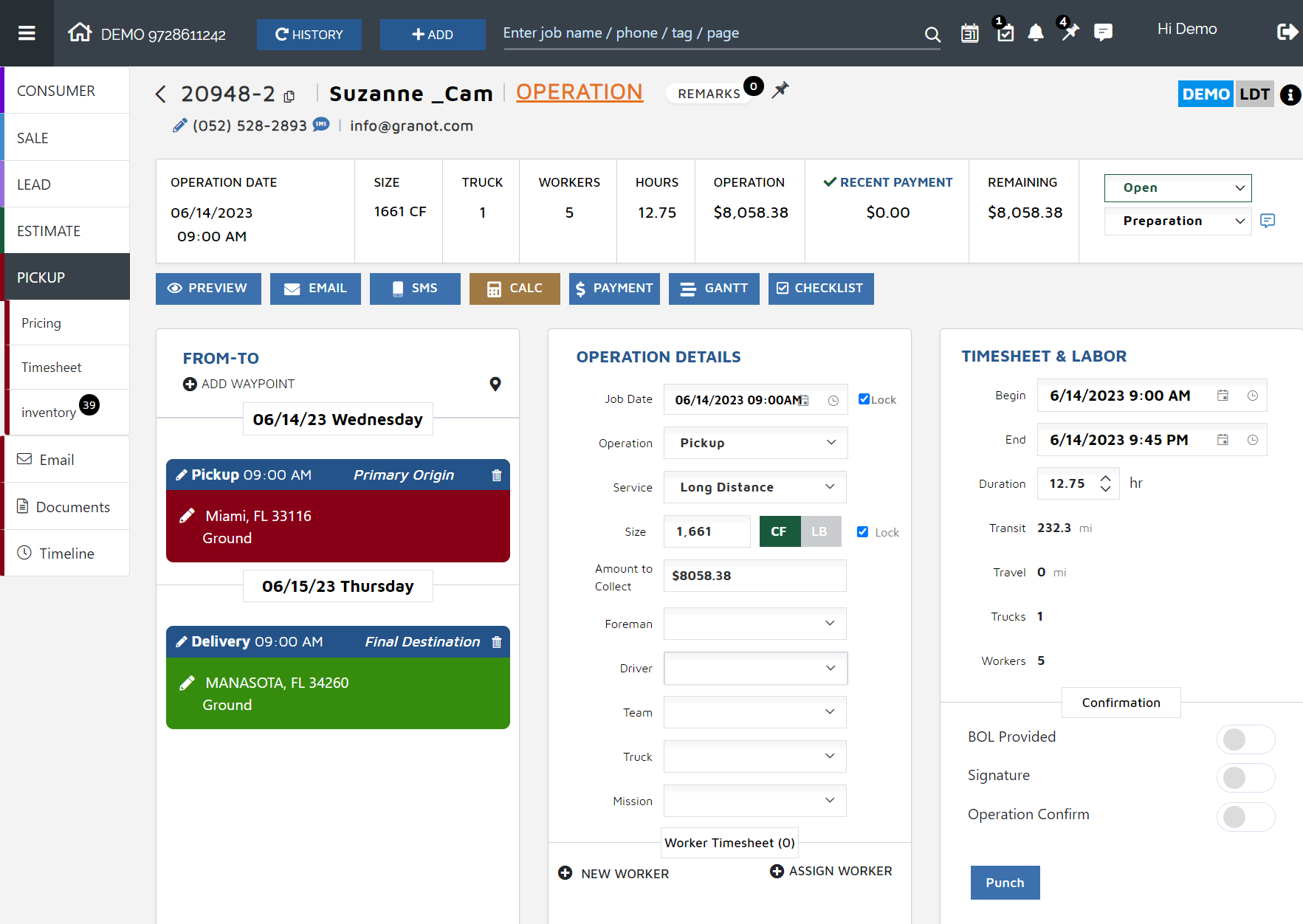 Affiliate Management
This feature goes beyond coordinating deliveries with sub-contractors. It also includes comprehensive financial transaction management and balance tracking between your moving company and the sub-contractors. With this feature, you can easily handle financial aspects such as invoicing, payments, and settlements with your affiliates. The software provides a transparent and efficient system for managing financial transactions, ensuring accurate accounting and maintaining a healthy balance between your company and the sub-contractors. Simplify your financial processes and maintain strong relationships with your affiliates using our robust Affiliate Management feature.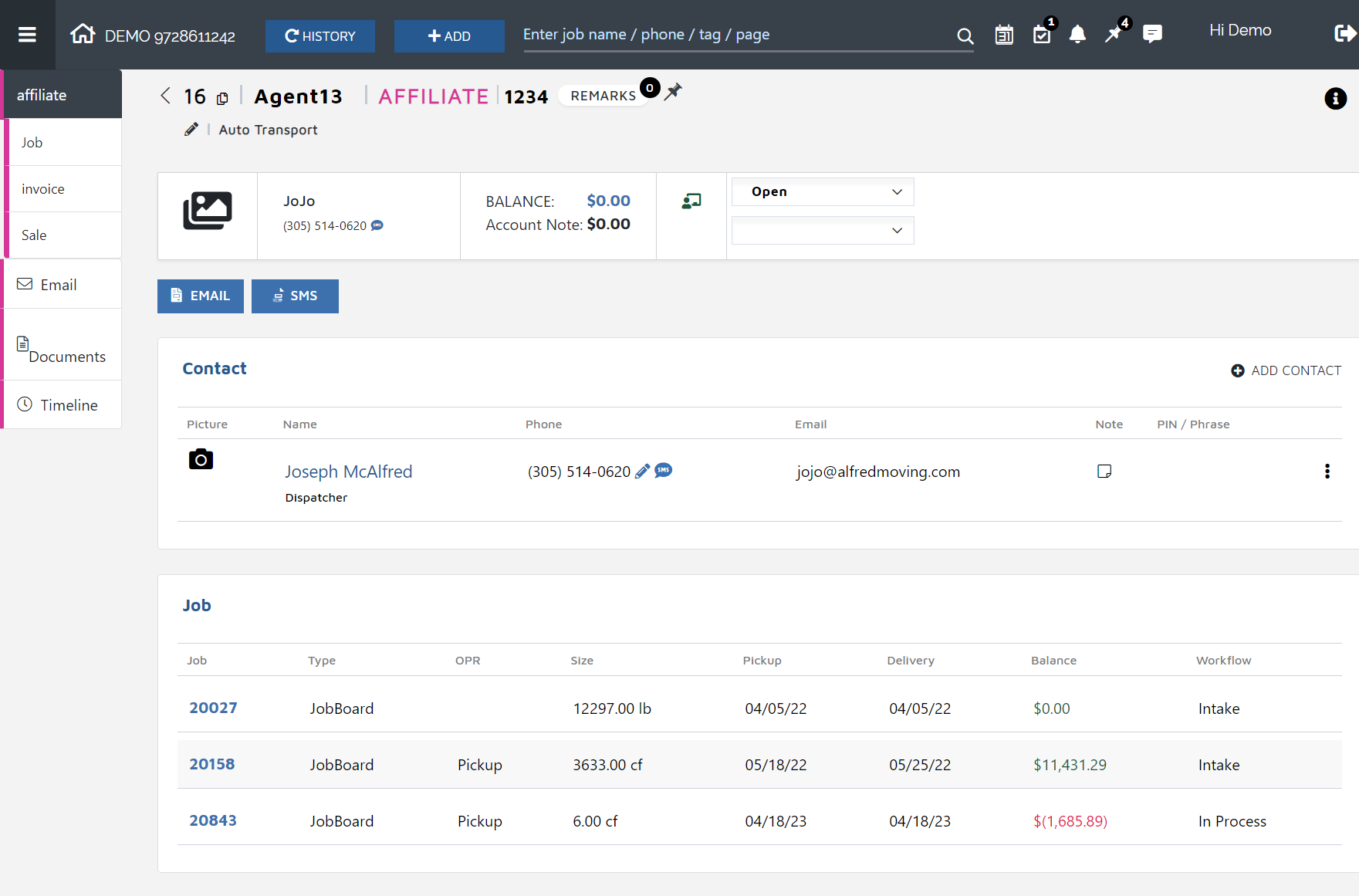 Employee Salary and Payroll
This feature simplifies the process of managing employee wages. With the ability to track timesheets for work completed on-site or at the office, as well as sales commissions, this feature ensures accurate and efficient payroll management. By effectively managing and tracking employee hours, it helps to prevent unnecessary overtime payments, saving you both time and money. Streamline your payroll processes and ensure fair compensation for your team with our comprehensive Salary and Payroll feature.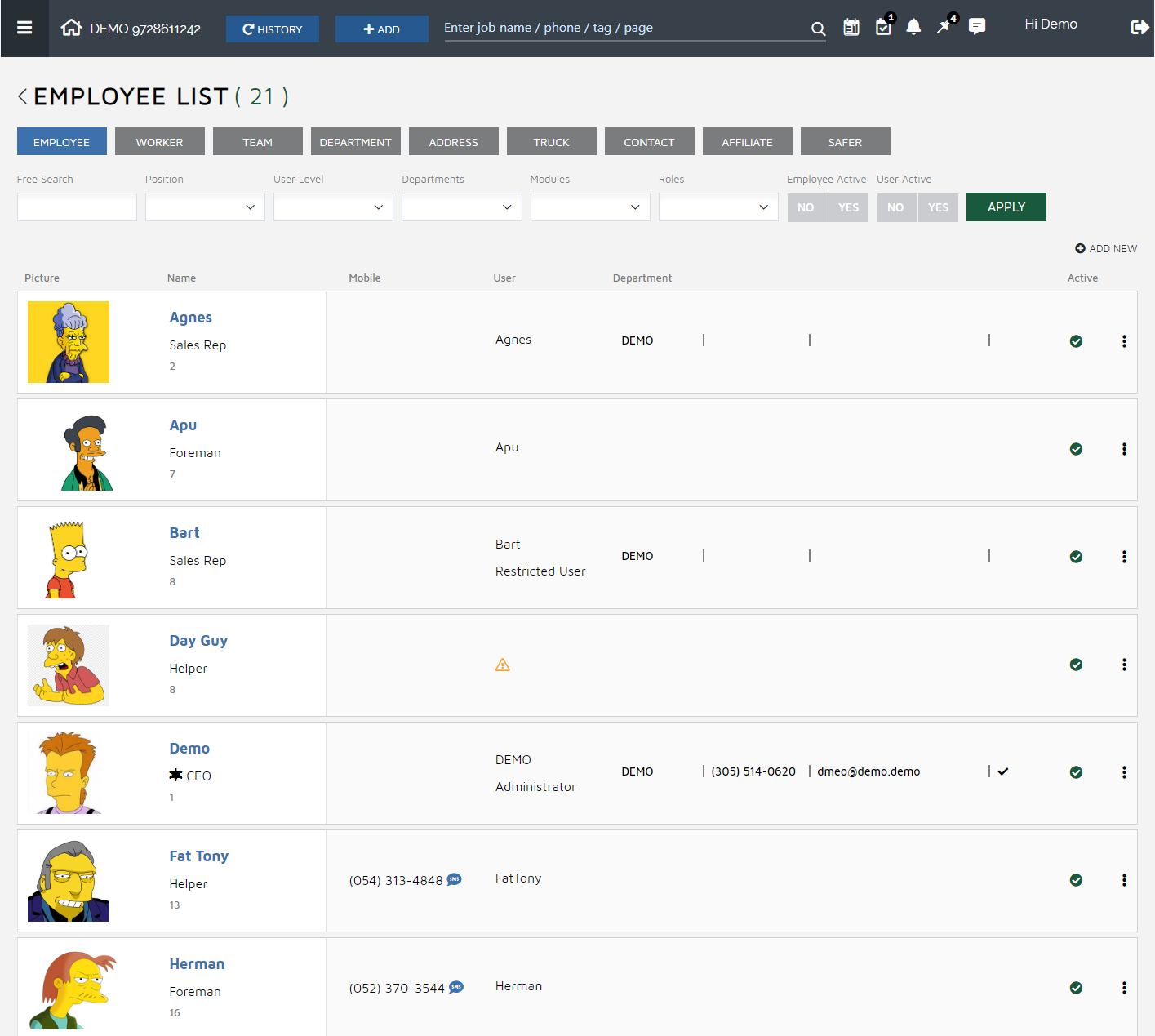 Storage Management
This feature offers a seamless solution for hassle-free storage services. With advanced cycling, billing, invoice, and automatic payment charging capabilities, you can effortlessly manage and automate monthly billing for your storage units. Whether your inventory is stored in crates, storage units, or in transit, this feature allows you to easily organize and track your belongings. Experience convenience and efficiency in managing your storage services with our comprehensive Storage Management feature.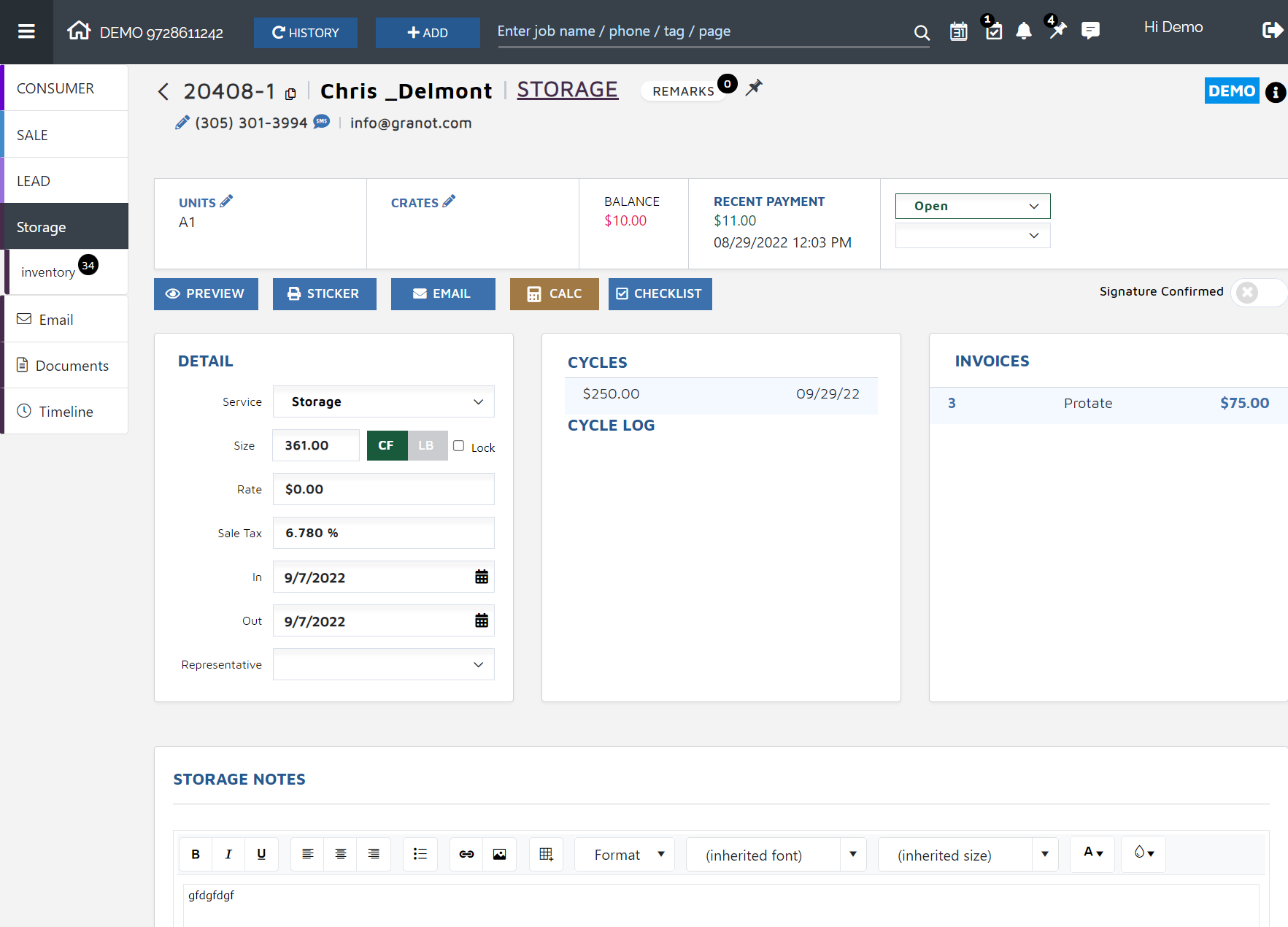 Claim Management
This feature offers a comprehensive solution for handling claims during the moving process. With this feature, you can efficiently document and manage any potential damages or loss that may occur. Streamline the claims process by capturing photos, recording details, and tracking the status of each claim. Our software provides a centralized platform to facilitate communication and resolution between customers, movers, and insurance providers, ensuring a smooth and transparent claims experience. Simplify your claims management and enhance customer satisfaction with our robust Claims Management feature.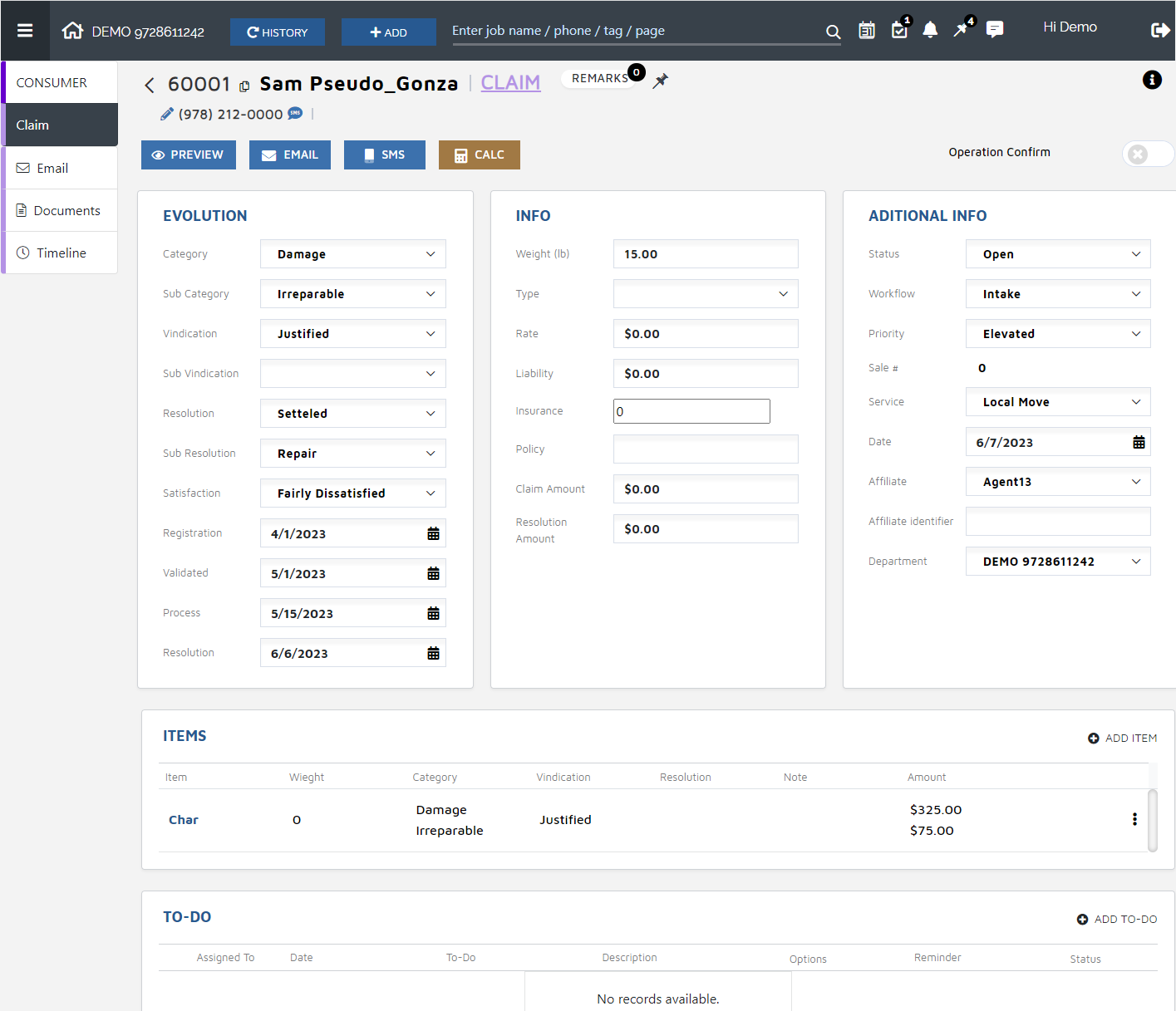 Mission Management
This feature is designed to streamline the preparation and management of crew activities and truck driving for both local and remote jobs that span multiple days. With this feature, you can effectively schedule and track mission-related tasks, ensuring seamless coordination and execution in the field. The operations schedule provides real-time updates from field managers, giving you a comprehensive and detailed view of ongoing activities. Stay informed and in control of your moving operations with our robust Mission Management feature, ensuring efficiency and success in every mission.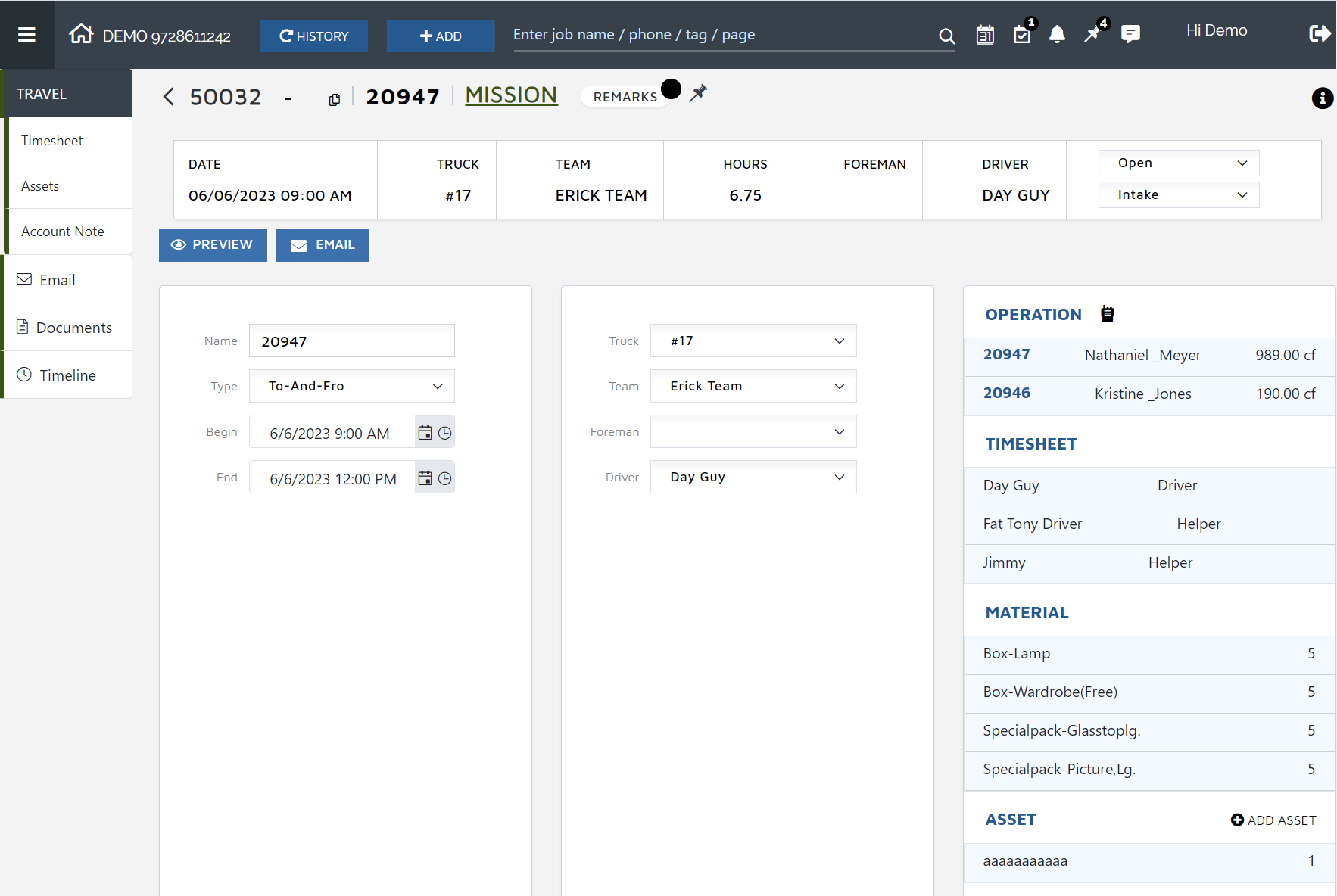 Truck Management
This feature is designed to streamline the management of your fleet of trucks. With this feature, you can effortlessly schedule and track important truck events, such as upcoming maintenance tasks, ensuring that your vehicles are always in optimal condition. Additionally, the software allows you to accurately record collision and parking violations, providing a centralized system for tracking and managing incidents. Stay proactive in maintaining your trucks, minimize downtime, and ensure compliance with our robust Truck Management feature. Simplify truck scheduling, enhance safety, and effectively handle maintenance and violations with ease.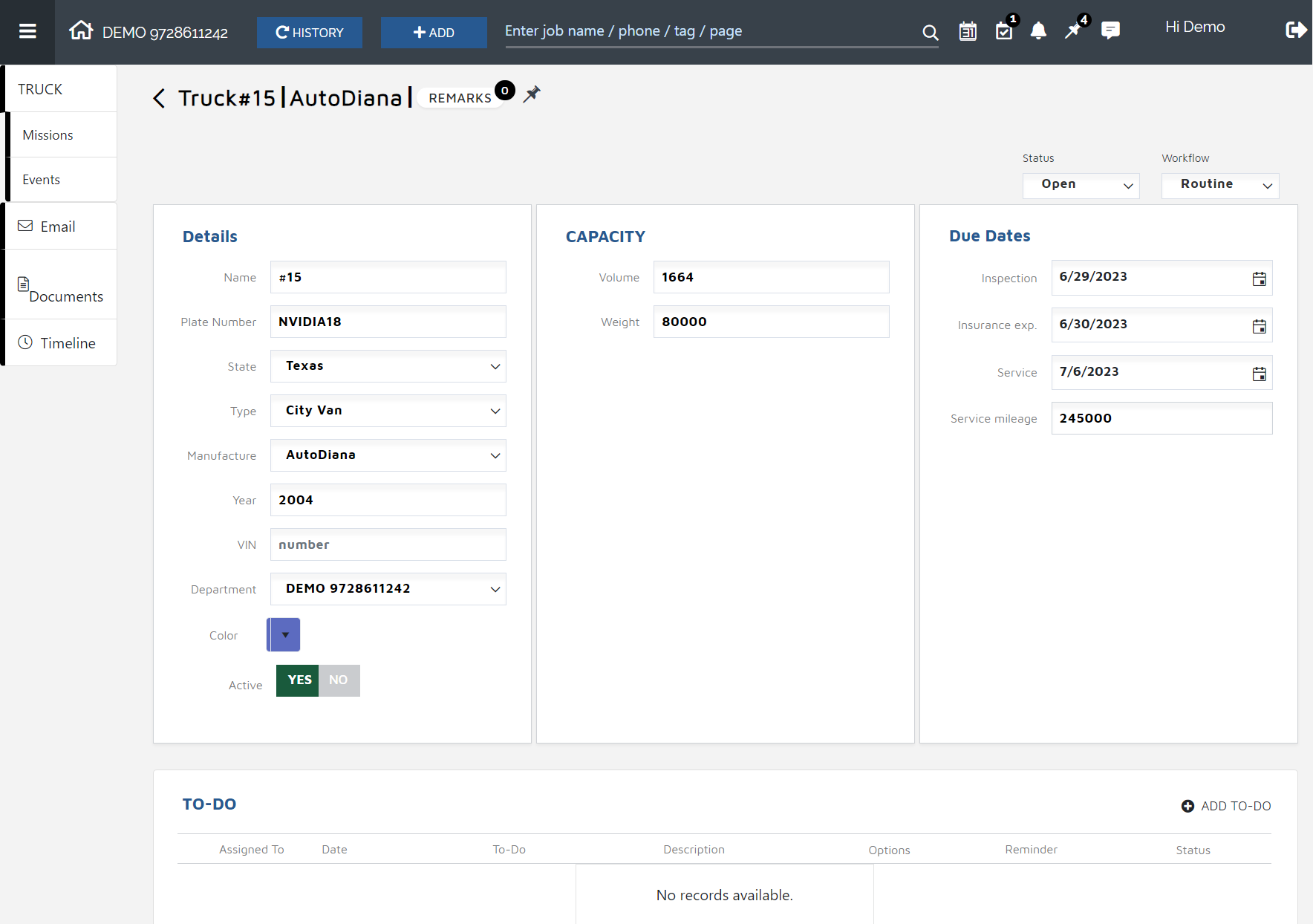 Feature/Service

Standard Pricing Model

Enterprise Pricing Model

Monthly Charge

$325

$495

Included Features

Core Features
Lead Management
Estimate Management,
Operation Management,
Dispatch Management
Affiliate Management
Movers Arena

All Standard features plus
Storage Management
Employee Salary and Payroll
Claim Management
Texting 500 messages
Additional Entity (Moving Company)

Document Storage

10GB

15GB

Monthly Emails

5,000 Emails

10,000 Emails

Users/Workers

50 Employees

100 Employees
Optional Services
| | | |
| --- | --- | --- |
| Feature/Service | Charge | Remarks |
| Texting 500 messages | $35/month | The plan includes 500 incoming and outgoing messages per month. Should you require additional messages beyond the allotted 500, there will be an extra charge of $0.04 per message. |
| Additional 10 GB Storage | $25/month | For an affordable fee of just $25 per month, you gain the flexibility to create and store documents within our moving software. With this feature, you can effortlessly generate new documents and conveniently upload scanned documents or pictures. Each additional charge of $25 grants you an additional 10GB of storage space, ensuring you have ample room to manage and organize your important files. Simplify your document management process and securely store your valuable records with our cost-effective storage expansion option |
| Additional Entity | $100/company/month | For an additional charge of $100 per month per company, you can easily manage multiple entities with distinct names, DOT numbers, or licenses within the same software platform. This feature allows you to maintain separate identities for each business unit, enabling efficient organization and management of individual operations. Embrace flexibility and scalability by accommodating multiple moving companies or businesses under one comprehensive solution, tailored to meet your diverse needs |